Interview with KTM's Alex Doringer: Dakar Rally 2018
---
Red Bull KTM Factory Racing are enjoying a well-earned break from competition on day six of the Dakar Rally 2018, in the Bolivian capital La Paz. With six arduous days of competition now completed and eight to go, the 40th Anniversary edition of the world's most iconic rally event is proving to be every bit as special as expected. As riders recharge their weary bodies and mechanics work to prepare bikes, Team Manager Alex Doringer offers his thoughts on what's been a dramatic opening five days, the importance of the rest day and the challenges that lie ahead.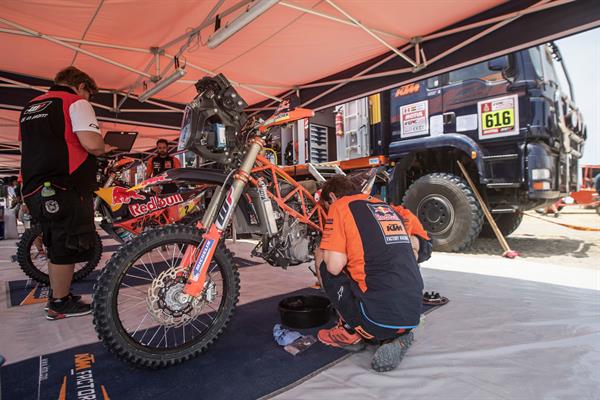 What an opening week it's been for the 40th Anniversary edition of the Dakar Rally! From a team point of view, has the fact that the first week's been so challenging, exciting and dramatic taken you by surprise?
Alex Doringer: "I think we're always ready for Dakar to deliver drama. Dakar challenges every team member, and always delivers highs and lows. Obviously, Sam's departure from the race was disappointing for everyone. But all of our riders have delivered some amazing performances so far and have arrived at the rest day full of confidence and looking forward to the challenges ahead."
The event is far from over, but what are your thoughts on the 40th Anniversary edition of the Dakar Rally, from what you've seen and experienced during the first week?
AD: "Dakar is unique and Dakar is always special. Starting in Peru this year, with the iconic sand dunes, was great. It was challenging for the riders but I think for those following the race it was 'true' Dakar. The weather obviously had a big impact on the 2017 event, but this year's event is definitely special. ASO, Marc Coma and his team always put in a huge amount of effort and energy, but this year there's something extra – I think everyone knows the 40th edition is very special. The variation of terrain has been fantastic, and with stages in Bolivia and Argentina ahead of us it's only going to get better and better."
Everyone knows that the rest day isn't truly a rest day as there's always work to be done, but how important is it for riders and teams to have a break from the racing?
AD: "The rest day is hugely important for everyone involved in Dakar. Our mechanics get the chance to carefully check our bikes, to ensure everything is ready for the coming days. It allows everyone to take some time to think about everything that's happened during the first week and to prepare for the second week, and to eat and sleep well ahead of what's going to be some hard days of riding. The mechanics get a rest from the driving and travel and the riders get to focus on recovery, ahead of two marathon stages. The rest day is a very busy time."
When it comes to the riders Sam Sunderland experienced the extreme highs and lows of Dakar during the first week. How is he, is there any update on his situation?
AD: "What happened to Sam can happen. It wasn't so much a mistake, really just bad fortune. An unlucky moment. He landed heavily and compressed his back. He tried to ride on, but smartly realised that something wasn't right and stopped. He is on his way back to Europe where he will get checked out again but I'm sure he'll be back riding and racing again soon. Coming into an event like Dakar with the #1 on your bike, that brings pressure to a rider. Sam managed that very well and started the event calmly before delivering some great results. I can say he was very focused and fast."
There have been some great performances form all KTM riders. It's Matthias Walkner who's best placed after five days of competition, is he looking forward to the second half of the event?
AD: "Matthias has enjoyed a great first five days. He's really enjoyed the stages and it's really showed in his performances. Matthias is very strong and very determined so as the difficulty of Dakar increases we know he'll be able to rise to it. We know there's a long way to go to the finish but we know Matthias is very focused on improving his position. He's ready."
Considering the injury issues both Toby Price and Antoine Meo had over the last 12 months, it must be very rewarding for all of the team that they're both doing so well?
AD: "Yes, knowing what each of them has been through makes it extra pleasing for the team. Seeing Toby and Antoine do so well isn't really a surprise, because we know how talented they are as riders. But after such a long time away from competition, coming back to the Dakar is a huge undertaking. Toby struggled so much after his crash in Dakar last year, just to get to the start line was a huge thing for him. Toby is a fighter and loves a challenge, and when he's on a bike he's where he should be. He's happy, motivated and although he knows the second week of Dakar will be especially tough for him due to his relative lack of fitness, he ready to get stuck into it."
Antoine Meo's form is also very impressive. His time away from Dakar and competition in general doesn't seem to have hampered his performance in any way!
AD: "Antoine's win on stage five was the confidence boost he needed, to remind him of what he's capable of. Two years he's been fighting against injury, and many riders would have walked away. Both Toby and Antoine have been through a lot, but you'd never know that as they're both so positive and are always joking and lightening the mood within the team. They stay together during the event and work very well together. Like Toby, the second week of the event will be tough for Antoine but he's very positive and the more technical stages ahead should suit him."
As she always does Laia Sanz has unquestionably risen to the challenge of Dakar!
AD: "Having Laia in the team is something we're very proud of. She's so popular here in South America, which is great to see. The respect the other riders have for her is incredible, and it's hard to explain how professional she is and how much she wants to do well for not only herself but everyone that supports her. She's very strong physically and mentally, and well placed to take on the coming week. The new bike has really helped her and we're confident that she'll rise to the challenges ahead, like she always does."
Finally, what are your thoughts on the stages and challenges that lie ahead?
AD: "With more riding to be done than has been done, things will undoubtedly get tougher and tougher. Especially with two marathon stages. We expect the second marathon stage will be hugely important to the end result. The weather will also play a part, we expect rain in the days ahead. Then in Argentina things will change again. It's amazing how close the competition is between the riders at the top of the overall results. Everyone in the team is ready for the challenge ahead and we're confident that our riders will continue to give their all and fight to the finish."
With eight stages left to contest, covering over 5,000km, the majority of the 2018 Dakar Rally is yet to come. Saturday marks the first of the two marathon stages the bike riders have to endure – they will receive no assistance from their teams during these overnight stops. On Monday, the rally crosses the border into Argentina. At lower altitudes, temperatures will soar and the riders, already exhausted from 1,000s of kilometres of racing, will need every ounce of their strength to complete each day. Finally, on Saturday January 20th after covering over 9,000km, the winner will be crowned at the Argentinian city of Cordoba.
---
---