For Sale! 1991 Jordan-Ford driven by Mick Schumacher at Bonhams Grandes Marques du Monde à Paris auction
---
1991 Jordan-Ford driven by Mick Schumacher in 2021 to honour 30th anniversary of his father's F1 debut 
1991 Jordan-Ford 191 Formula 1 Racing Single-Seater 191-6, estimate €1,400,000-2,000,000
A 1991 Jordan-Ford 191 Formula 1 Racing Single-Seater 191-6, the very car in which Michael Schumacher first made his mark in Formula 1 more than three decades ago, lines up on a grid of motorsport star cars at Bonhams Grandes Marques du Monde à Paris sale in the Grand Palais Éphémère on 2 February. It has an estimate of €1,400,000-2,000,000.
The seven-time Formula 1 World Champion – who holds this record jointly with Lewis Hamilton – finished eighth in the first practice session of the Belgian Grand Prix at Spa-Francorchamps in August 1991, his very first outing for the newly formed Jordan team, and was an instant sensation.
So too was the Jordan-Ford, launched by the former Formula 3000 team, which won the Autosport Racing Car of the Year award. Powered by a Ford-Cosworth V6 circa 650 hp HB engine, the 191 was designed by Chief Engineer Gary Anderson and has been voted the 'best looking F1 car of all-time'.
In the hands of teammate Andrea De Cesaris in that same Belgian Grand Prix, Chassis 191-6 moved up the grid to second place behind Ayrton Senna, before experiencing engine failure with just two laps to go. Schumacher, starting in seventh but unused to a racing start with a full fuel load, burned out the clutch and retired on the opening lap. This was his only appearance with the Jordan team as he was snapped up by Benetton F1 before the next Grand Prix in Italy.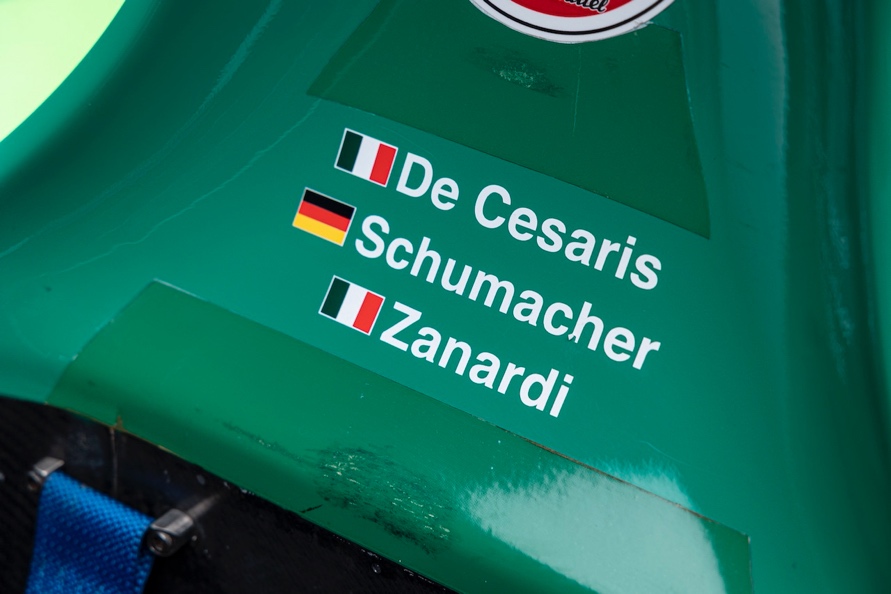 Meanwhile, for the remainder of the season, chassis 191-6 served as a spare car for De Cesaris and Schumacher's replacements Roberto Moreno, followed by Alex Zanardi. The team would finish fifth in the Constructor's World Championship that season.
Thirty years later, having been kept by several collectors, notably Belgian endurance racing-driver Jean 'Beurlys' Blaton, the Jordan was driven by Mick Schumacher at Silverstone to mark the anniversary of the launch of his father's Formula 1 career.
Philip Kantor, International Chairman, Bonhams Collector Cars, said: "This is an unmissable opportunity to follow in the tyre tracks of a racing legend and own a piece of Formula 1 history."
---
---