1983 Lancia Rally 037 Evoluzione 2 for sale at Bonhams|Cars' Goodwood Revival Sale
---
Bonhams|Cars is delighted to offer one of the ultimate rally cars, a 1983 Lancia Rally 037 Evoluzione 2, at its Goodwood Revival Sale on 9-10 September. Group B cars are known for being the fastest, most powerful and most sophisticated rally cars ever built and it's a rare opportunity to find a surviving car from the 'Golden Era' of rallying. As a works entry for the 1984 Italian Rally Championship (CIR), this car had the most successful competition history of any Lancia 037 Evo 2 with a total of nine victories during the Group B era. With only three owners since 1985 and the current owner for 17 years, this car recently had a full mechanical restoration. As the pinnacle rally car, estimated at £750,000 – £950,000, Bonhams|Cars is pleased to offer this Lancia 037 alongside an ultimate racing car, the 1973 Porsche RSR Coupe 'R7', considered one of the best examples from the incredibly successful racing history of Porsche works, Martini-sponsored past.
Highlights offered in the sale include:
A 1967 Toyota 2000 GT (estimate: £700,000 – £900,000) in Pegasus White is believed to have been first acquired by the owner of Toyota Mozambique and was one of only two cars imported to the East African country. Known for its precise engineering and impeccable quality, this Japanese 'halo' car was one of only 351 built between 1967-1970. Over the years, the GT's exterior and interior have been preserved and an engine rebuild was undertaken. It was awarded the 'Best in Show' at the prestigious London Concours in 2022.
A 1931 Bentley 8-Litre (estimate: £600,000 – £800,000) is a magnificent completely matching numbers Vanden Plas Style Tourer. Debuting at the 1930 London Motor Show and advertised as "100mph without noise", this model represents an evolutionary step in the development of the Vintage-era Bentley. Only 78 survive worldwide from the mere 100 produced and this example maintains the performance and drivability of which Bentleys are known.
A 1986 Aston Martin Virage Coupé Prototype (estimate: £250,000 – £350,000) is a unique two-door prototype of the company's mainstream model of the 1990s, the Virage, though has an appearance more similar to the William Towns' Lagonda 'Wedge' saloon of 1976. Further differentiating this model, in 1990 the vendor received factory approval to strip down the chassis and rebuild it to his 6'3" height. With Pacific Blue Pearlescent paint and fully trimmed interior to Lagonda standards, the new car was completed in 1993 and tested by racer/journalist Tony Dron who commented, "This is a magnificent machine which rides well at low speed but which handles faultlessly when driven fast… it has that thoroughbred feel which inspires faith and confidence…".
The Beaulieu Sale – 1-2 September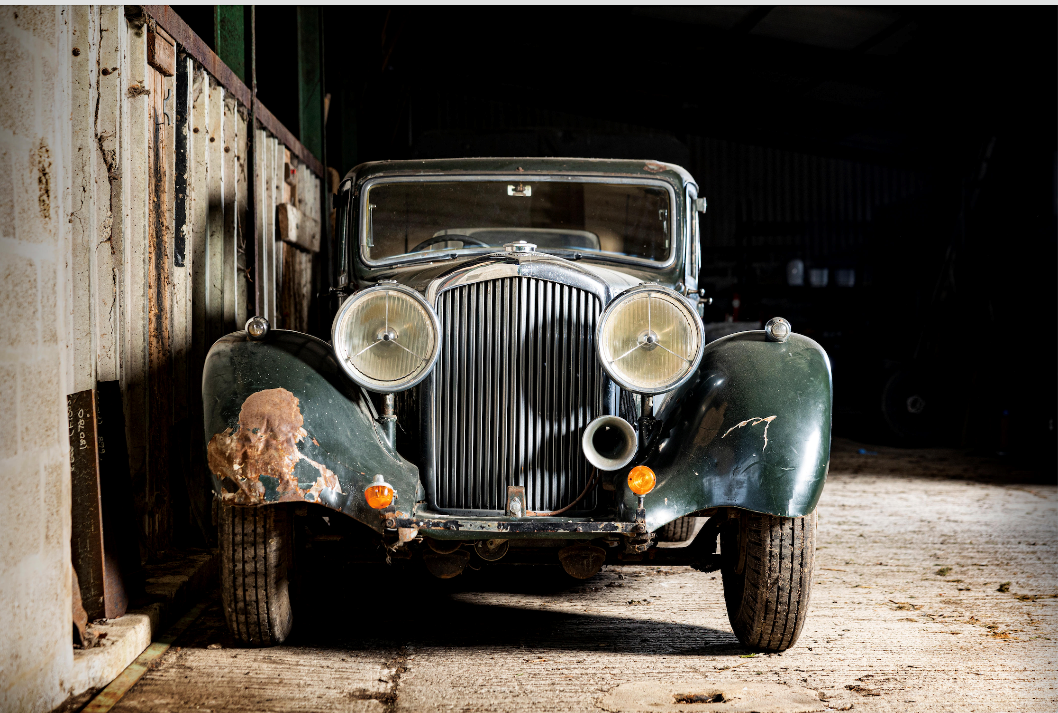 1937 Bentley 4¼-Litre Sports Saloon Project (estimate: £20,000 – £30,000).
Preceding the Revival sale is The Beaulieu Sale on 1-2 September. As with the past 30+ years presenting the sale at the National Motor Museum in Beaulieu in Hampshire, Bonhams|Cars will offer a range of lots from expertly restored classics to project cars and all the ephemera needed for passionate hobbyists. Many gems found in Beaulieu sales have gone on to win competitions and Bonhams|Cars is pleased to continue to represent the full spectrum of car collecting from nascent stages to competition ready.
Highlights offered in the sale include:
A 1937 Bentley 4¼-Litre Sports Saloon Project (estimate: £20,000 – £30,000), first owned by Major The Hon. Oscar Montague Guest, MP, youngest son of the 1st Baron Wimborne and then by Rt. Hon. Alan Clark, MP in 1989 since when it's remained in his family ever since. This handsome Derby Bentley is looking to be restored to its former glory and presents a rewarding project.
A 1953 Daimler Conquest Roadster Prototype (estimate: £20,000 – £30,000) is an exciting 'barn find' ready for restoration. The pre-production prototype, left-hand drive chassis number '85004' is the only Daimler Roadster built in 1953, constructed on the instruction of Lady Docker when she saw how well the Jaguars XK120-140 were selling. The car's construction was accomplished in six weeks, just in time for the 1953 Earls Court Motor Show.
---
---